Meet David M. Eller, DDS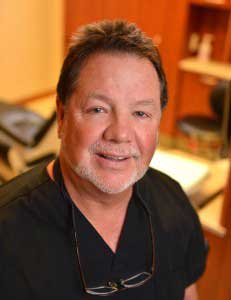 A West Virginian by birth (1950 Beckley, WV), Dr. David Eller has resided here for most of his life. After graduating from Barboursville High School in 1968, he attended Marshall University from 1968 to 1972 and WVU School of Dentistry from 1972-1976. Upon graduation, he was hired by Dr. J.R. Hannan as an associate. A year into the associateship, Dr. Hannan offered a partnership and Drs. Hannan & Eller Inc. was formed. The two practiced together until Dr. Hannan's retirement. After several years of practicing solo, Dr. Eller found a fine young dental school graduate to become his associate. Dr. Reginald Opimo and Dr. Eller have practiced together since 2001 and eventually formed David M. Eller & Dr. Reginald S. Opimo, D.D.S., Inc.
Dr. Eller believes that his patients deserve the best in technology and facilities. He continues to educate himself at post-graduate courses yearly. He feels that his high-tech office and equipment, along with continual staff training, provide patients with the best treatment available.
Dr. Eller is proud to be a member of the American Dental Association, where he served for the last five years as one of the Delegates for its House. He is a 38-year member of the WV Dental Association and is a past president of the Huntington Dental Society (1984 and 2001). Volunteering for the Ebenezer Outreach Dental Clinic and projects such as Donated Dental Services and Mission of Mercy has kept him busy in the community.
In October 2009, Dr. Eller was inducted to the International College of Dentists. Dr. Eller's family includes wife Renee', daughters Sarah, Laurin, Kristin, and Erin, sons Jacob and Zackary, and seven wonderful grandchildren of whom he is very proud. Among his hobbies are golf, hunting, and fishing. He likes to treat his patients as if they were his family and many have become like family in his 38 years of practice.
Office Hours
Monday: 8:00 am – 5:00 pm
Tuesday: 8:00 am – 5:00 pm
Wednesday: 8:00 am – 5:00 pm
Thursday: 8:00 am – 5:00 pm*
Friday: 8:00 am – 5:00 pm
*Every 2nd Thursday: 11:00 am - 7:00 pm