Meet Reginald S. Opimo, DDS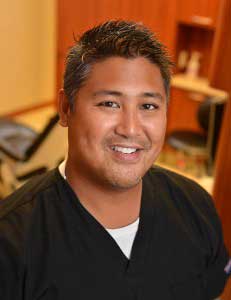 Dr. Reginald Opimo is a lifelong member of the Barboursville, Huntington community. He was born in Huntington and is a graduate of Barboursville High School Class of 1992. Dr. Opimo continued his education at the University of Kentucky and received his Bachelor of Science in biology in 1996. Following his undergraduate studies, Dr. Opimo pursued and achieved a Doctorate in Dental Surgery (D.D.S.) from the West Virginia University in 2001. Shortly after his graduation, he was hired into the practice of Dr. David M. Eller as an associate and eventually formed David M. Eller & Dr. Reginald S. Opimo, D.D.S., Inc.
Dr. Opimo continues with his dental education by attending continuing education classes and lectures to keep up to date on the newest technology and trends in dentistry to better serve his patients. He has advanced training in esthetic dentistry and is certified in the use of CEREC® crown fabrication, Lumineers® placement, and Invisalign®, as well as whitening and laser procedures.
Dr. Opimo enjoys getting to know his patients and also helping them better understand any fears, concerns, or desires he or she may have. He understands all patients have different needs and will develop a plan with alternative treatment options that will work best for each patient.
In addition to Dr. Opimo's regular patients, he is very passionate in helping those who need the help the most. He served multiple years as chairman of the Give Kids A Smile program, a program to offer free dental services to school-age children, ever since its inception. Dr. Opimo also has volunteered his time to help patients of Ebenezer Medical Outreach to be able to obtain dental treatment that they may not have been able to receive. Furthermore, he has volunteered his abilities to the Donated Dental Services (DDS) Program, a humanitarian service for disabled, elderly, and medically compromised people. Dr. Opimo continues to search for new ways to help his community and makes it a priority as he builds his abilities and business.
Office Hours
Monday: 8:00 am – 5:00 pm
Tuesday: 8:00 am – 5:00 pm
Wednesday: 8:00 am – 5:00 pm
Thursday: 8:00 am – 5:00 pm*
Friday: 8:00 am – 5:00 pm
*Every 2nd Thursday: 11:00 am - 7:00 pm